Start
September 28, 2017 - 5:00 pm
End
October 7, 2017 - 8:00 pm
Address
4th Floor, New Building, University of Central Punjab, 1 Khayaban e Jinnah Road, Lahore
View map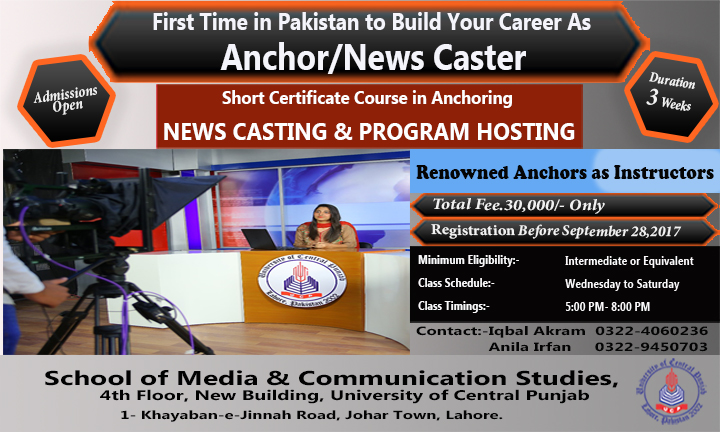 News Casting & Program Hosting
This is one complete & intensive course for those who are fascinated by the world of screen. The course aims to expose its students to the techniques employed in TV News anchoring as well as program hosting with an added advantage of learning news reading complexities.
The course provides theoretical and practical training in 'real-life' situations to prepare participants to deal with the finer aspects of facing the camera live, write their scripts, use teleprompter, go through confidence building exercises, voice modulations, diction and pronunciation as well as body language skills and dress-sense to improve their screen presence.
It has been designed keeping in view the market demands and give students abundant exposure in all aspects of on screen presence giving them a feel of the whole media world.
Registration
Fee: 30,000
Registration last date: September 28, 2017
Classes Schedule: Four days a week (Wednesday to Saturday)
MORE DETAIL
Mr. Iqbal Akram
Cell: +92-322-4060236
Email: Iqbal.akram@ucp.edu.pk
Ph: +92-42-35880007 Ext 221
Faculty of Media and Communication Studies (FMCS)
Ms. Anila Irfan
Cell: +92-322-9450703
Email: anila.irfan@ucp.edu.pk
Ph: +92-42-35880007 Ext 385
Faculty of Media and Communication Studies (FMCS)
MORE DETAIL