Mr. Mohsin Abbas
Director (Officiating)
MS, Communication Technology, University of ULM, Germany
BS, Telecommunication Engineering, FAST-NU, Lahore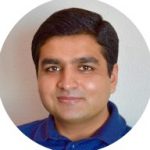 By leveraging technology, we can transform the educational landscape of Pakistan and make education more effective, accessible and affordable for all students. With this vision, the Faculty of IT at UCP has launched the Centre for Learning Design, that, working in collaboration with the Centre for Game Design and the Centre for Robotics & Security, aims to radically change the field of education and revolutionize the methods of imparting education.
In addition, these educational tools and learning applications help in solving real-life problems such as managing finances at home and understanding scientific concepts.